The FamilyWorks Resource Center is a warm and inviting place where families and individuals are welcomed and encouraged to participate in programs designed to support and enhance a nurturing and vibrant community.
Our staff and volunteers provide individual support, skill building, and resource information to people and families in our community for free.
We also provide free used clothing, diapers, books, and toys for young children.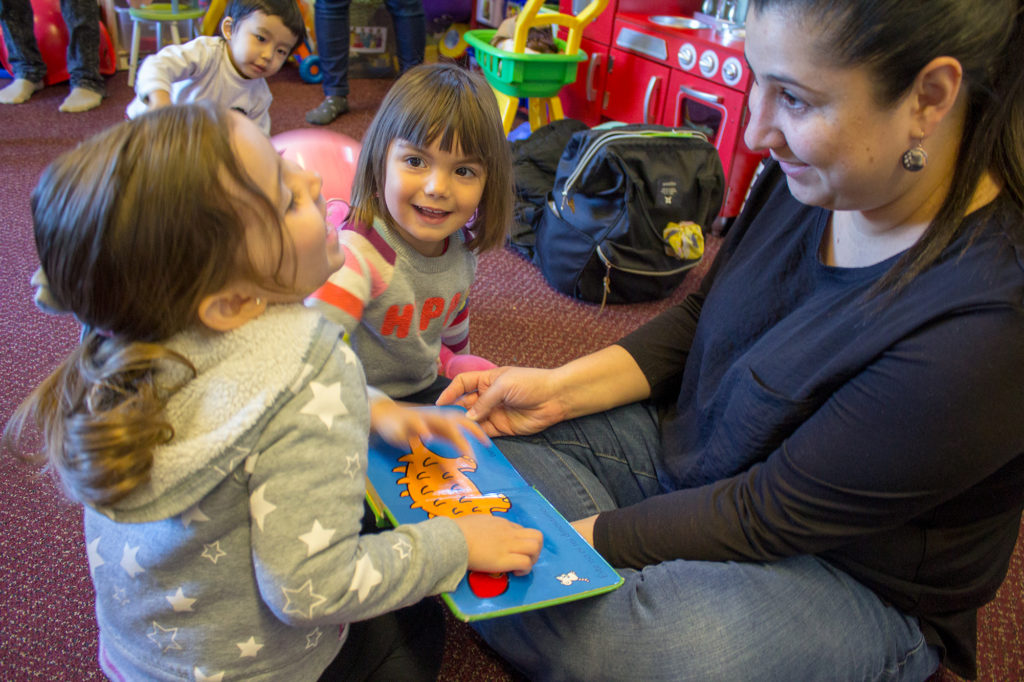 Children from birth to 5 years old and their caregiver are welcome to attend our weekly playgroups where we come together to play, sing, read, eat snacks and build community! Playgroups are led by a FamilyWorks staff member or volunteer. The playroom is also available for use by children accompanied by an adult when there is no organized group in session.
We have English, Spanish (Kaleidoscope Play and Learn group) and Japanese playgroups that are welcome to everyone. Participating in all playgroups is free and requires no prior registration – you can just drop in.
Benefits of participating in playgroups include:  children learning social and developmental skills, caregivers/parents gain knowledge in child development and fun, age-appropriate activities, and an opportunity to meet others and build a community network. 
Parenting Classes & Workshops
We offer free parenting classes each year along with a variety of workshops related to child growth and development. The parenting classes and workshops are free to participants (except for a small fee if a parenting book is required, with scholarships available for those unable to pay for the book). We provide free, limited childcare while parents are attending a class.
These classes require that all participants register before attending by calling our office (206) 694-6727.
Community & Empowerment Programs
Skill-Building, Field Trips, & Participant-Led Programs
Through partnerships with organizations throughout Seattle (view our long list of partners here!), we provide opportunities for families and individuals to build resiliency. Whether it be participant-led cooking classes, Up-Close encounters with Woodland Park Zoo animals, or a trip to the museum, these programs contribute to a strong, caring community.
Drop by the Resource Center or call us at (206) 694-6727 to find out what programs we're offering now.
Advocacy, Information, & Referrals
In order to advocate with our families, we provide information and connect people to community services that help them meet their individual and family needs. This may include connection to food, clothing, financial services, mental health resources, employment and other basic needs as well as additional family programs & services. 
We welcome families with a deep respect, by listening and responding to what families indicate they want and need.  Through these values and our unique approach, we have built strong relationships with a diverse community of families in our programs and work to offer support in connecting to essential resources which build resiliency.
At FamilyWorks, we hope to provide items and experiences that we believe are essential to being a kid. Anyone can come into the Resource Center and "shop" for free children's clothes and toys from our shelves. We also have a diaper program where parents can pickup diapers and baby wipes once a week.
We also have seasonal programs for kids, such as our Back-to-School Program and our Holiday Helper Program, to make sure every child has the tools they need to thrive on their academic journey and the opportunity to celebrate the holidays with their family.
WIC Nutrition Appointments
WIC is a nutrition program that helps pregnant women, new mothers, and children under 5 years of age eat well, learn about nutrition, and stay healthy. WIC is onsite at our Family Resource Center in Wallingford several Thursdays each month for walk-ins and by appointment. Please call in advance to ensure availability.
WIC provides:
– Health Screening
– Nutrition and health education
– Information and support for breastfeeding
– Help getting other services
– Checks for nutritious foods
To get more information on whether you are income eligible and how to access services, please call (206) 694-6728.
1501 North 45th Street
Seattle, WA 98103
Mon: 9:30 am – 12:00 pm
Tue: 9:30 am – 5:00 pm
Wed: 9:30 am – 5:00 pm
Thu: 9:30 am – 5:30 pm
Fri: 9:30 am – 1:00 pm